Whether you're trying to bulk up or get lean, it can sometimes get boring eating the same foods repeatedly, which is why we've compiled our favorite five recipes with muscle-boosting foods for you to try this week.
So, we've got you sorted from breakfast to dinner, whether you're looking for a protein-packed snack like our tasty protein balls or a delicious mango chicken rice bowl for some extra oomph for dinner.
Protein Energy Balls
We love these protein energy balls as a tasty snack or a quick energy boost. The energy balls take just two minutes to prep 24 servings, and for 6g of protein, you can't go wrong.
Servings: 24
Preparation time: 2 minutes
Cook time: N/A
Calories: 115
Protein: 6G
Carbs: 12G
Fats: 5G
Ingredients:
Three cups oats
1⁄2 cup vanilla protein powder
One cup peanut butter
One cup low calorie or sugar-free syrup
1-2 Tbsp milk
1⁄4 cup dark chocolate chips (optional)
1⁄2 cup ground flax seeds (optional)
Recipe
Mix your oats with protein powder until combined in a large mixing bowl. Add your peanut butter and syrup, mixing well. Fold through your mix-ins of choice.
Using a tablespoon, add your milk of choice, one tablespoon at a time, until a thick dough remains.
Lightly wet your hands and form 20-24 balls of dough.
Place on a plate and refrigerate until firm.
Protein Pancakes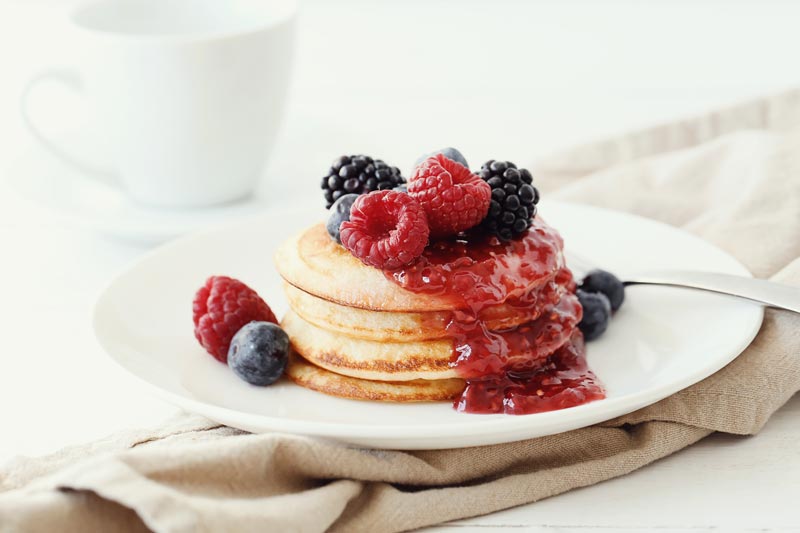 Perfect for brunch or a quick snack after a session in the gym, these tasty pancakes are packed full of nutrients whilst also being delicious and indulgent.
Servings: 1
Preparation time: 2 minutes
Cook time: 5 minutes
Calories: 400
Protein: 21G
Carbs: 39G
Fats: 18G
Also Read: Ready for bigger, stronger legs?
Ingredients:
One scoop of vanilla protein powder
One large banana
1⁄8 tsp cinnamon
1⁄4 tsp baking powder
1⁄4 tsp salt
Two large eggs
Sugar-free syrup (optional)
1⁄2 cup berries (optional)
0.75oz chocolate chips (optional)
Recipe
Separate the egg whites from the egg yolks into two separate bowls and beat the egg whites for 3 minutes.
Add the other ingredients (banana, protein powder, baking powder, cinnamon) and whisk until smooth.
Add to the egg yolk mixture and beat until smooth.
Pour onto the skillet and cook for 1-2 minutes.
As soon as you see some bubbles, it's time to flip.
Add toppings of your choice.
Vegan Fajitas
Packed with veg and tons of flavor, these vegan fajitas are a great weeknight meal or a hearty lunch pre-gym.
Servings: 2
Preparation time: 35 minutes
Cook time: 15 minutes
Calories: 375
Protein: 10G
Carbs: 48G
Fats: 16G
Ingredients:
Two Tbsp extra virgin olive oil
Four small unsalted corn tortillas
One cup summer squash, sliced
One small zucchini, sliced
One medium green pepper, sliced
1⁄2 cup raw sweet corn
1⁄2 cup unsalted black beans, boiled
One tsp distilled vinegar
1⁄2 tsp dried oregano
1⁄2 tsp chili powder
Recipe
Combine 1 Tbsp olive oil, vinegar, chili powder, and oregano in a large bowl. Add peppers, zucchini, and squash and marinate in the refrigerator for 30 mins.
Heat 1 Tbsp of olive oil over medium heat, drain vegetables, and sauté until tender (10-15 min)
Stir in beans and corn, increase heat to high and cook for 3-5 minutes. Serve in warm corn tortillas.
Grilled Buffalo Chicken & Saskatoon Sandwich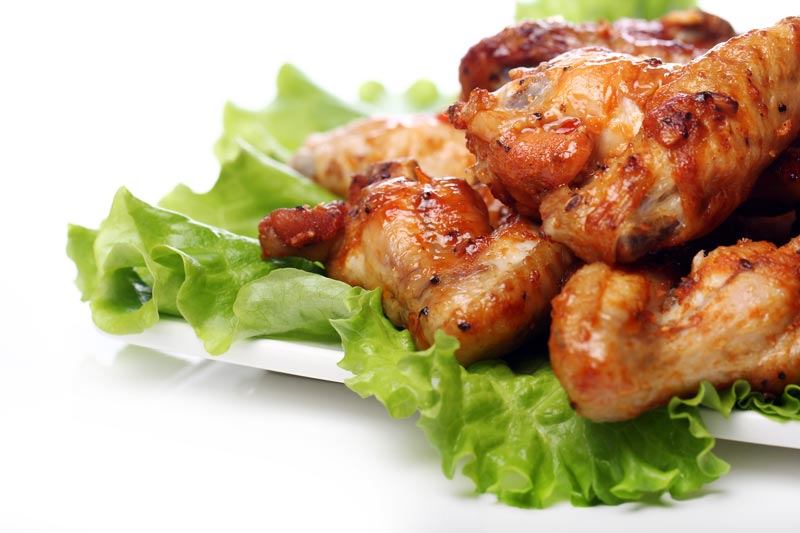 Whether you're looking for a quick workday lunch or a light dinner, we love this grilled chicken and saskatoon sandwich, and it's full of nutrients and flavor.
Also Read: The best SARMS for bulking
Servings: 1
Preparation time: 2 minutes
Cook time: 6 minutes
Calories: 565
Protein: 35G
Carbs: 68G
Fats: 17G
Ingredients:
Two thin slices of sourdough bread
3.5oz buffalo chicken (pre-cooked)
One slice of marble cheese
Two Tbsp jam
One tomato
Two tsp butter
Fresh lettuce
Sliced onion
Recipe
Lightly butter the outsides of the bread (to cook) and put jam on the inside of each slice.
On one slice of bread, put the chicken on jam and top with cheese.
Put the second piece of bread on top and grill in a frying pan butter side down until the bread is golden brown. Flip and grill on the other side.
Add lettuce, onions, and tomato.
Mango Chicken Rice Bowl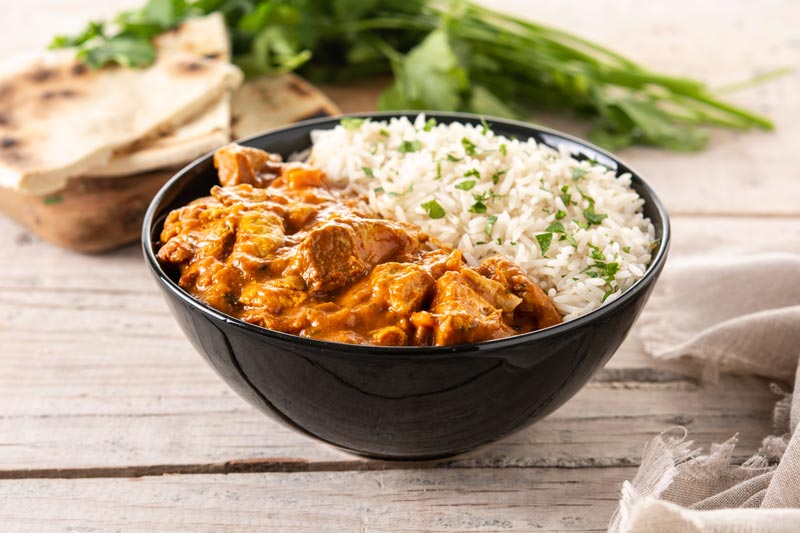 Treat yourself to something colorful and delicious with plenty of fresh fruit and veggies and lean protein in this mango chicken rice bowl. Even better, it only takes 20 minutes to cook.
Servings: 1
Preparation time: 15 minutes
Cook time: 20 minutes
Calories: 610
Protein: 42G
Carbs: 65G
Fats: 20G
Ingredients:
4oz chicken breast
4.5oz jasmine ready rice
One cup zucchini, chopped
1⁄2 cup edamame, shelled
1.5 cup red peppers, chopped
1⁄2 Tbsp coconut oil
1⁄2 cup mango chicken cooking sauce
Recipe
Bake chicken breast in the oven until fully cooked.
Chop chicken into pieces.
Cook rice as per package directions.
In a frying pan, sauté zucchini, peppers, and edamame in coconut oil. When your veggies are cooked, add mango chicken sauce, and cook until heated.
In a bowl, add chicken breast and rice, top with veggie mixture and enjoy.
Vegan Protein Ice-Cream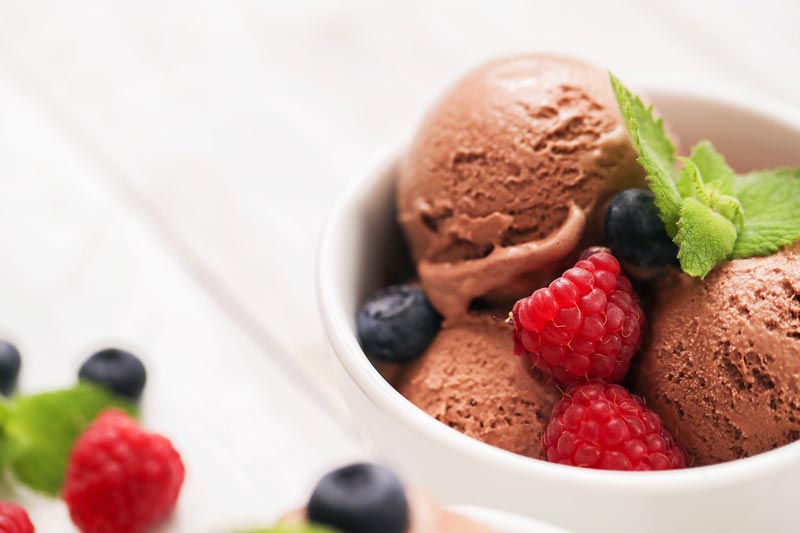 If you fancy something sweet or just want to cool down on a hot day, this vegan protein-packed ice cream is perfect.
Also Read: Hypertrophy training: How to optimize your training and supersize your gains
Servings: 1
Preparation time: 2 minutes
Cook time: n/a
Calories: 180
Protein: 23G
Carbs: 13G
Fats: 4G
Ingredients:
One scoop of chocolate protein powder
Five packets of natural stevia sweetener
Two Tbsp cocoa powder, unsweetened
One tsp xanthan gum
1⁄4 cup vanilla almond milk
Two cups ice
Recipe
Put the ice and almond milk in a blender and blend on low.
Add protein powder, cocoa powder, and stevia and slowly increase Blender speed.
Add xanthan gum and blend on high until creamy, about 5-10 seconds, depending on your blender.
Add a splash of water or milk for consistency if needed.
Ready to get BRUTAL the right way?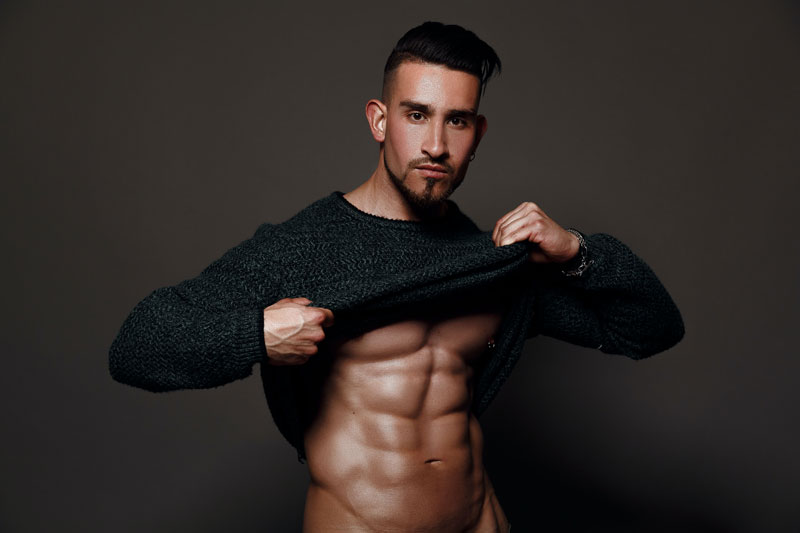 Alongside eating right and heart-raising workouts, it's time to get brutal to support your weightlifting journey, increase your performance, and boost those gains. Our 100% natural bulking supplements and SARMs are legal, safe, and free of any side effects. And there's no prescription in sight!
It's time to get BRUTAL – the right way.